This week the puppies have developed fast and grown a lot. They have now, at the end of week 4, really become small dogs and are experimenting with lots of sounds: barking, whining, howling and growling at each other. They are running around a lot, offering a lot of play behaviours, play fighting with their litter mates, examining everything I put in the puppy pen and start to be pretty good at orienting themselves towards movement and sound.
Lykka has started to tell them off a little bit, specifically when they are sucking too hard on her. She might also just walk off when they are trying to suckle. It is important not to be over-protective as a breeder here, as this is also teaching the puppies how to cope with frustration and learn to overcome it. It also helps in weaning the puppies and have them eat more and more of normal food.
This week the gang has gotten a lot of new things in the puppy pen; new toys, new materials to walk on and a puppy mobile with different stuff hanging there.
We have listened to animal sounds, big city noise and thunderstorm sounds. They have heard the TV a lot and the noise of me cooking, doing the dishes and vacuum cleaning.
They have had their first 2 people visiting and they have met bother Bliss and Fire via the fence in the puppy pen.
They have tried two different kind of kibbles, some chicken and egg yolk. I serve them water, but they prefer to play in it rather than drinking it ;).
I am handling them on a daily basis and have started to look at their teeth and ears.
They have visited the kitchen and had their first visit outdoors.
The coming week I will start spending 10-15 minutes with each puppy a day. They will get to go outside every day and they will get to investigate the rest of the house. The coming weekend we will have people over to see them. And by the end of week 5 I will take them to their first visit in the forest!
My impression so far is that it is a very, very confident, harmonic and active litter. I am very satisfied with the way they act in new environments and with new sounds and things. So far, it seems to be an awesome litter!
Video
Weight Chart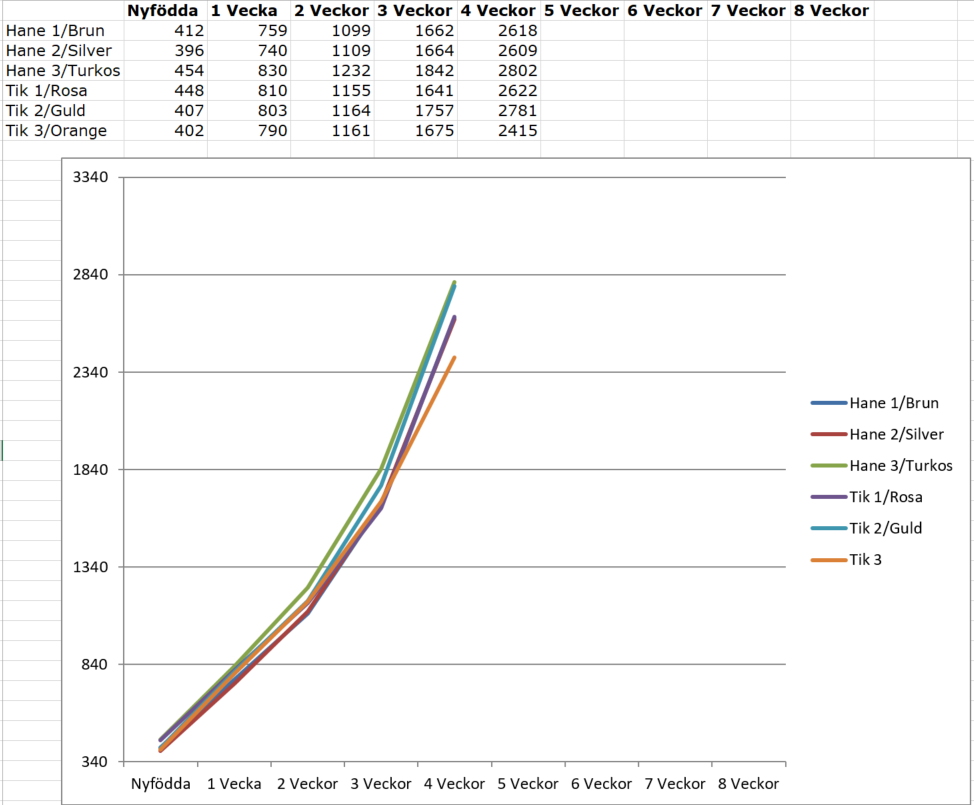 Picture gallery